Shroudman

Add Shroudman as a friend

Shroudman will be notified and will have to accept this friendship request, to view updates from Shroudman and their ratings you must follow them.

Remove Shroudman as a friend



About me
All my info can be found on my website at:
[Link removed - login to see]
Occupation: Retired
In a relationship
About my collections
My book is rated as action/adventure, historical/fiction. Titanic, romance, espionage, spies, sex.
Lists
Favorite books
(1 item)
Book list by Shroudman
Last updated 6 years, 3 months ago
Recent reviews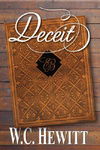 Posted : 6 years, 3 months ago on 25 February 2012 12:02 (A review of
Deceit
)
An excellent Historical/fiction, action/adventure. The novel was easy reading and kept you rivetted to each page. Mr. Hewitt has delivered a smashing new adventure heroine in Elizabeth Brunnette. All I can say is,"When are you releasing the next book?"

0 comments,
Reply to this entry
Books
Comments